LED Light Therapy Shield Mask
Regular price
$ 38.99 USD
/
---
A LED face shield mask
Do the old-school skin care methods no longer work? Do you want something more modern, simple, and effective? LED light therapy has been around for quite a while, but not so long ago it has become accessible not only in the doctor's office but at your house. It's an amazing compliment to your everyday skincare routine.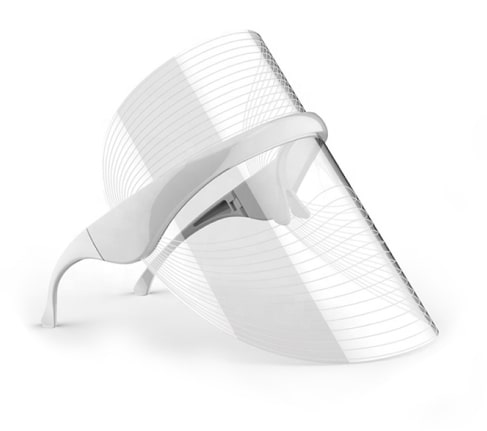 A simple, yet powerful face shield
Get rid of and prevent many skin issues. Where has it been?!
3 light modes for different purposes
Red light mode helps rejuvenate skin, shrink pores, smoothen and soothe the skin. Blue light mode helps treat acne and increase elasticity. Yellow light helps lighten the spots & restore the balance of sensitive skin.
How do I use it properly?
It's easier than ever! Clean your face like you normally do, put a mask on your face, and put on the LED shield. Turn the desired mode on, and wait 15 minutes. That's it! Do it once a day, and your skin will be happy.
Avant-garde technology for your beauty
The LED therapy is approved by the FDA. LED emits a specific wavelength of red and blue light, penetrates the skin, reaches deeper layers, stimulates the capillary flow, increases cell generation, and collagen generation.
Usability is easy as it can be
One charge will be enough for 2-3 uses (because 1 use is 15 minutes long). It's so simple to operate! A long push on the button on the side turns the device on/off, and short pushes change the colors respectively.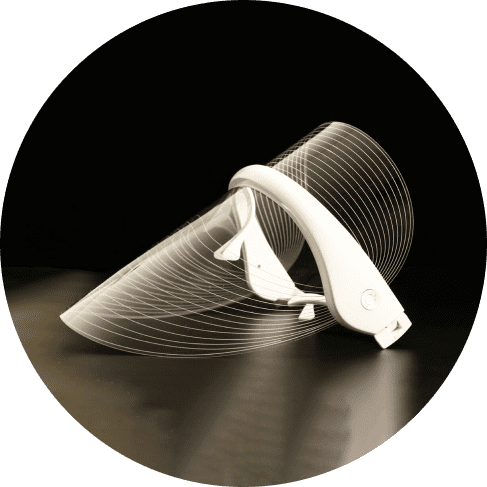 No more expensive and long salon visits
A face shield is an amazing gadget for those who care about their face. Now you can easily maintain the health, youth, and glow of your skin. The shield is totally safe and works in a very gentle, non-aggressive way. Enjoy the medical-grade results wherever you want and whenever you want. Don't miss it!
It does lighten sun damage, very lightweight

So easy to use! I really like using this product. Definitely recommend.

This mask is easy to use. It doesn't hurt your eyes. Very cool to wear and effective

I feel like this mask does not emit nearly enough LED light to be effective.

Some sun damage has healed and my skin is plumper with reduction of lines and wrinkles.

Love this product. I'm really into self health and care and this mask w/ 3 different lights help with my self care for my face!

It's very tight across my forehead/above my ears. I'm afraid I might break it as I stretch it open to put it on.

Got this for a gift. They love it and swear by it. They use it every night. Worked well for them so far with no issues. Good quality and value.

Noticeable difference in the acne and the overall skin is getting better. Almost 2 weeks of use and better than all the chemicals I was using.

This is the most convenient LED face shield ! I use it after I apply my nightly products before heading to bed and wear it while I watch my shows.

I have seen results but I also started using a night cream and a day cream so I don't know if it was the light therapy or not but I enjoy using it. It looks cool and it's pretty simple. Did what I expected and didn't cost too much.

It is just right! I tried other face masks that left marks on your face. This one is light with great coverage, but sturdy and well made.

This is reasonably priced and easy to use. I did not want a mask that is strapped around my head. This wears like a pair of sunglasses

I wear mask while working from home and change light settings until I complete the cycle and my skin feels softer and has more elasticity since I started using it

I wanted to try this led mask for a while and I did some research before buying this one. I've been using it when I go to bed every night after thoroughly cleaning my skin. I have melasma and at first I was a bit afraid of trying and getting my face darker but surprisingly it's been helping to clear my skin and making it more soft. It's very easy to charge and comfortable on your face.

My skin feels so SOFT!!!! I was skeptical of the LED mask at first because I never used it before in my life. But I just followed the directions - 15 minutes per day. I used the yellow light mode and literally within a week, I could notice a dramatic improvement in my facial skin. The mask is very easy to use and comforts me when I put it on. Highly recommend it and would definitely buy it again!!

I had been seeing LED masks growing in popularity so I was excited to give this one a try. First things first, the quality of this mask is amazing! It's definitely not cheap or flimsy, it's sturdy and has a nice weight to it. I'm able to do the LED therapy from the comfort of my own home which is nice. After using it for about one week I'm noticing subtle results in the tone of my skin. Remember, with skin treatments nothing happens over night. With continued use you will definitely see results. Happy with my purchase!

I love anything that may help my skin. With that said I purchased this mask because it looked unique and I liked what it says it does. Since receiving it I can now say I LOVE it! It is so very easy to use. First of all it is VERY lightweight. I have been putting it on my face at night while I am reading or watching TV. It sits on my face with no slippage at all and isn't the slightest bit bothersome. It helps my moisturizer to sink in quickly and I enjoy using all 3 of the lights. I think it is very beneficial for my skin and I will continue to use it every night. I do recommend giving it a try.